How to combine everything?
A lot of work at my job this week, well since last week and it will go on until the end of next week.... I do double shift and I just can't find the time to do my workout... I woke up early yesterday to be able to do the Cardio Recovery from my Insanity Program and even if it was a ''recovery'' workout, I didn't feel I was full into it.... That's a shame because I don't want to miss or ''scrap'' a workout, and after 3 weeks of this program, I can't seem to feel or even see the progress... I think I will have to adjust my eating schedule and probably eat less or with less oats flour....
I'm a sugar freaks:
the four ''C''
(candy/cake/cupcakes/cookies) so it's rather hard for me on the eating plan....
Anyway, I'll try this recipe this weekend, and I'll post my feedback later this week, maybe if you want to try it too and gives me your impressions, that would be great to: P
CAROB CHIP PROTEIN COOKIES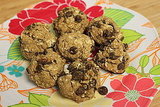 1 scoop of protein powde
r
(I used Whey Protein Vanilla)
2 packets of stevia
(I got stevia in powder, wonder...)
Mix all ingredients together in a bowl with your hands, form into balls, and place on a cookie sheet with parchment paper.
Bake at 350 degrees for about 6-8 minutes.
Makes 6-10 cookies depending on how big you make them.